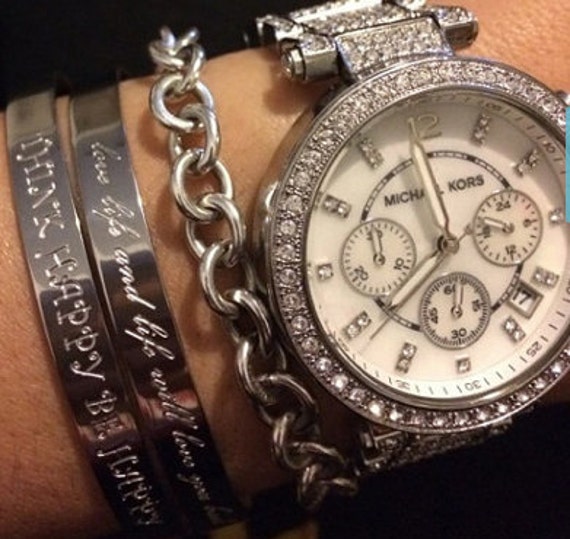 One of the
awesome
things about jewelry is that you can make it extremely personal and motivational. So, ready for story time? I thought so.
Over the past year, I went through a lot of personal things regarding self esteem, changing my path in life, and of course the stresses of family, friends, school, and work. Needless to say, I was in a place where I wasn't so hot. So, I decided to get a little reminder to remind me that not everything is going to be negative, and that things
do
happen for a reason.
So, one day
I came accross this bracelet
. And I knew that I had to have it. However, at the time, the shop BePositive was just being set up, and only offered the "Think Happy, Be Happy" bracelet. So, I messaged the shop owner, whose name is Olivia to talk about getting the one that I currently own. (Pictured above.) She was extremely helpful, and helped me get the bracelet that I wanted.
However, disaster struck when the post office lost my bracelet. I then contacted Olivia, who then kindly resent it in better packaging.
The bracelet came last Friday, and I've been
in love
with it ever since. The bracelet is shiny stainless steel and is six and a half inches, but it can be expanded. I have a seven inch wrist, so it fit me rather comfortably. It's really good quality, and it's perfect for layering other bracelets, and having that whole #armcandy thing going on.
I decided to make this a "Things I Love Thursday", because of the great customer service that I got with Olivia, and because her bracelet is awesome. I definitely will be buying more jewelry from her!
*I was not compensated for this post, and all opinions are my own.
**Check out Olivia's Etsy shop here